England's Heads of State
1558 - 1760
1558 -1603 Elizabeth I TUDOR
1603 - 1625 James I STUART
1625 - 1649 Charles I STUART
1649 - 1660 COMMONWEALTH
(Oliver Cromwell)
1660 - 1685 Charles II STUART
1685 - 1688 James II STUART
1689 - 1694 William III and Mary II STUART
1694 - 1702 William III (alone)
1702 - 1714 Anne STUART
1714 - 1727 George I HANOVER
1727 - 1760 George II HANOVER
Some Owners and Breeders
1558 - 1760
1592 -1628 George Villiers, 1st Duke Buckingham m. Katharine, dau. Francis Manners, 6th Earl of Rutland
1628 - 1687 George Villiers, 2nd Duke Buckingham m. Mary, dau. of Lord Thomas Fairfax
1570 - 1653 Conyers D'Arcy (7th Lord D'Arcy and 4th Lord Conyers of Hornby)
1598 - 1689 Conyers D'Arcy (Lord Holderness, bro. of James D'Arcy)
1617 - 1673 James D'Arcy (Charles II Master of the Stud) m. Isabel, dau of Sir Marmaduke Wyvill
1650 - 1731 James D'Arcy, the younger (Lord D'Arcy of Navan)
1653 - -- Christopher (Kit) D'Arcy (bro. of James, the younger)
165- - -- Elizabeth (Betty) D'Arcy (sis. of James, the younger)
1706 - 1739 Elizabeth D'Arcy (dau of James, the younger) m. John Hutton III
1593 - 1676 William Cavendish, 1st Duke of Newcastle m. Elizabeth, dau of William Basset
1630 - 1691 Henry Cavendish, 2nd Duke of Newcastle m. Frances Pierrepont
1661 - 1716 Margaret Cavendish (dau of Henry) m. John Holles, Earl of Clare, Duke of Newcastle upon Tyne
1694 - 1755 Henrietta Cavendish-Holles (dau of John Holles) m. Edward Lord Harley (2nd Earl of Oxford)
1715 - 1785 Margaret Cavendish-Harley (dau of Edward) m. William Bentinck, 2nd Duke Portland
1597 --- Matthew Hutton m. Barbara, sister to Conyers, Lord D'Arcy of Hornby, 1st Earl Holderness
1625 - 1664 John Hutton
1657 - 1730 John Hutton II
1691 - 1768 John Hutton III m. Elizabeth, dau. James D'Arcy the younger
1730 - 1782 John Hutton IV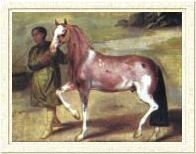 Restoring Royal Lines

We know, thanks to historian C.M. Prior, who unearthed original mid-17th century documents and published them in his 1935 book, The Royal Studs of the Sixteenth and Seventeenth Centuries, that James D'Arcy the elder (1617 - 1673), was appointed Master of the Royal Stud in 1660 by Charles II, and was directed, within a month of Charles' restoration in May of 1660, to assess the royal stud at Tutbury, and take possession of it.

Tutbury was an ancient site, the hill on which the castle was located had been the site of a hill fort before the birth of Christ, shaped and reinforced by waves of conquerers. At first wood, a motte and bailey stone castle was built by the Norman de Ferrars family, which was demolished and rebuilt several times over the course of various wars of royal succession, and served as the principal residence for the Earls of Lancaster, but fell into disrepair at the end of the fifteenth century. Despite its decay, it was one of the grim structures in which Mary, Queen of Scots, was confined during her unhappy days as captive of Queen Elizabeth 1st. Mary's son, King James I, later used it as a hunting lodge, replacing the main structure within the walls in 1631. The stud at Tutbury was located in the area around Tutbury Castle, divided into paddocks called Castlebay, The Trenches, Tockley, Rolleston, Little Parke and Obholme.

The Tutbury stud had been established by Henry VIII, one of several developed to breed horses for use by the court. The royal studs were greatly augmented by George Villiers, favorite of James I, who served as the king's Master of the Horse, and who secured and imported horses from the royal studs of Spain and Italy. Other animals were gifts from various European royal houses, and from rulers in Africa. England's monarchs also made gifts of horses from their stud to their counterparts across the channel. The royal studs also included horses presented by the subjects of England's monarchs, some of whom had been developing their own "breed" of horses at their estates throughout England, and some of these horses may have been of entirely native stock.

The English civil war had an impact on horses in the country, not only through mortality during battle, but through theft and acquisition as opposing armies took and lost various geographic areas. In 1649, soon after the victorious Oliver Cromwell took power and the Commonwealth was established, Cromwell directed his agents to make a survey of the royal stud at Tutbury, which listed 140 head of mares, colts and fillies, but no breeding stallions. Records show he retained seven horses from the royal stud at Tutbury, gave some as gifts to various supporters, and ordered the rest sold.

In 1660, D'Arcy was told by the restored Charles II to go to Tubury and "take possession thereof for His Majesty's use, and dispose thereof in such a manner as formerly ye same have bin used, or shall be now thought most meet for His Majesty's service, in the breed of his Colts and Horses, to show your good discretion." D'Arcy was cautioned in the command to "take care that ye Interest of Major General Morgan be preserved unto him." Major-General Thomas Morgan, who had served under Lord Thomas Fairfax in the parliamentary army, later supported the restoration of Charles II, and was instrumental in bringing about support for Charles in Scotland; his son was Sir William Morgan, the purchaser of the colt later known as Morgan's Dun, grandson of the Burton Barb mare (Family 2). From this Royal Command it appears Major-General Morgan had an interest in some of the horses at Tutbury, probably acquired after its sequestration by Cromwell, and it seems likely as part of his debt to Morgan for his support in the restoration, Charles II was affirming Morgan's ownership of some former royal animals or their descendants.

D'Arcy reported back to the King: "...his Majesty hath no Race [stud], Tutbury being made incapable of it..." and proposed instead that he furnish Charles with an annual number of colts "I'll breed (Having two good Stallions allowed me) out of my own stocke..." for a yearly fee. The deal was officialized in Letters Patent recorded in June of 1661, and the D'Arcy stud at Sedbury Park in Yorkshire -- which came to him via his marriage with the daughter of Sir Marmaduke Wyvill, another early breeder of running horses -- became the most important center of horse breeding in the country.

In 1673 James D'Arcy died and the agreement with the King was not renewed, the post of Master of the Royal Stud being granted to Sutton Oglethorpe, whose appointment did not encompass selling the King any horses. About fifteen years later, D'Arcy's son James, was petitioning King William III to either pay some of the money still owned his family from the reign of Charles II or, alternatively, to provide him with six "good Barbary or Arabian horses" to "supply the great number of breeding mares your Petitioner hath," if the King would undertake to have them shipped from the Mediterranean where "your Royal Fleet [is] lying." This desire for imported stallions was because "in all England he [D'Arcy] cannot be furnished with good stallions but what are of the same kind." All the stallions of common blood in England to which D'Arcy referred, were probably, as Prior points out, "too nearly related to his own mares at Sedbury."

Because D'Arcy presented a nearly identical petition to Queen Anne upon her ascension in 1702, it is presumed the neither the stallions nor the money were forthcoming from King William. Still, the D'Arcy stud continued to be a major influence in the breeding of running horses until the 1731 death of James, the younger, who had been created Lord D'Arcy of Navan (Ireland) ten years earlier.